Auxilliary Items for West Controllers & Indicators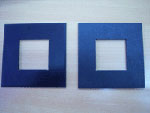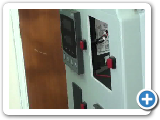 Adapter plates are used where there is a ¼ DIN size cut out hole in the panel and the customer wants to mount a smaller 1/16 DIN size instrument.

Two adapter plates are required per instrument. They are easily fitted and secured by the mounting clamp supplied with the instrument housing.

One adapter plate is placed over the cut out on the outside of the panel; the other is placed behind the panel. Remove the mounting clamp from the instrument housing and push the housing through the adapter plates. Now place the mounting clamp on the back of the housing and move it towards the rear face of the panel until the tongues engage with the housing ratches. This action brings the two adapter plates together and the instrument housing is now clamped firmly into position.

These 1/4 to 1/16DIN adapter plates are sold as a pair.